Costa Blanca Adviser is a company located in the most beautiful part of Spain.
The Costa Blanca is an area with Spain's loveliest beaches, and which also includes attractive rocky shores, hills with orange groves in the valleys, dunes and forest, in addition to scenic beauty.
According to the World Health Organisation the Costa Blanca has the most pleasant climate in the world. Sufficient reasons therefore to settle down here or to spend your holidays in this area.
---
Costa Blanca Adviser is a service agency that engages in everything that concerns a homeowner. We arrange nearly anything for you: checking your home during your absence, helping you with the delivery of the house, maintenance, airport service and more.
One of our services is leasing your villa, finca, apartment or chalet. You not only get a return on your investment due to the annual increase in property value, but you'll collect rent from your second home as well. To facilitate leasing, we offer your house to several travel agencies as well as on the Internet (with a picture).
Our package includes – among other things – key delivery and receipt, cleaning service, availability by telephone 24 hours per day in case of calamities, and airport service.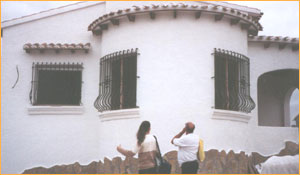 ---
You live and work in England and you cannot spare the time to come to Spain every weekend and look after your valuable investment. That's where we come in. We arrange all these things for you in Spain.
Costa Blanca Adviser also mediates in the purchase of real estate. We do not work for a regular real estate agent. We help you find the house of your dreams. We organize tours through the Costa Blanca in order to show you the nicest spots, as a result of which you also become enchanted by the scenic beauty of the Costa Blanca.
You decide where you want to live. You are not dependent on a real estate agent, who may not have that particular piece of property in his portfolio. We look for the right real estate agent for you!