For managing your house we offer you a total package, consisting of the following:
- Management of the house – there will be a weekly check up in which hinges & locks will be checked as well as all sanitary fittings. This also includes checking the utility provisions and the removal of all insects, bugs and rodents.
- Service when rebuilding your home according to your wishes – we make an appointment with an architect and let you know what are the renovation possibilities.
- Photo service during the construction of the house – During the entire building period we take photographs weekly so you can keep track of developments.
---
- Furnishing – From furniture, TV and kitchen appliances to blankets, sheets, pots and pans, etc., we accompany you in selecting these articles and have them delivered to your door.
- Insurance – There a numerous insurance companies that can offer you attractive policies for household effects or medical expenses. We introduce you to these companies or invite the insurance agent to your home.
- Transfer the registration number to Spain –Your English registration number is replaced by a Spanish one via an authorised garage.
- Request for a NIE-number (Numero de Identificacion de Extranjero = Foreigners' Identification Number) and residency – Whether you're going to work or study in Spain or want to start your own business, you no longer have to apply for a residence permit.
- Notarial affairs – We organise a gestor, who takes care of all your affairs at a notary public and the tax authorities.
- Minor maintenance – If something appears to be wrong during the weekly check, it is immediately repaired or replaced.
---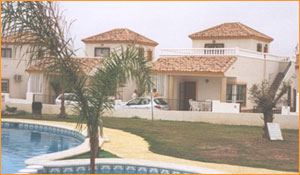 ---
- Major maintenance – If there is major damage caused by storm or flooding, an emergency repair is made. After that, we contact you and on the basis of a number of tenders you can decide who will carry out permanent repairs. We can also arrange paintwork, as we have connections with various companies for paintwork and handiwork.
- Key management – There is always a spare key in our safe should you lose your key.
- Cleaning service – We take care of the final cleaning once your house is completed. We see to it that the house is clean and ready for you.
- 24-hour service – If something occurs such as a burglary, flooding or illness, we are there to help you.
- Car rental – If you arrive by plane, we take care that a rented car is waiting for you.
- Airport service – Picking you up from the Al Altet airport near Alicante and bringing you away.
---